1. Introduction
Coronary Artery Disease (CAD) has prevailed the world more than any other disease and has accounted for many disabilities and mortalities. Among the main factors contributing to this disease are a high-fat diet, smoking, and an inactive lifestyle [
1
]. Many financial and life-threatening costs accompany the treatment and rehabilitation of this disease. Thus, it is essential to prevent its underlying factors. Prevention of the disease is deemed possible through controlling the risk factors of cardiovascular diseases such as hypertension, blood fats (lipids), a high percentage of body lipids, and avoiding sedentary life (doing exercise) [
2
].
Physical training makes the body adaptive and can, thus, reduce the mortality rate of cardiovascular diseases and helps improve cardiovascular functioning. One such adaptation is the angiogenesis procedure. A variety of growth factors are involved in this procedure, the most important of which are the Fibroblast Growth Factor (FGF) and the Vascular Endothelial Growth Factor (VEGF) [
3
,
4
]. The latter is the most potent mitogen specific to the endothelial cells [
5
], known as a critical regulator of angiogenesis [
4
]. These vascular endothelial growth factors perform their biological function by acting on the receptor tyrosine kinases in the plasma membrane of the target cells. After linking to their ligand, these receptors turn into a dimer and are auto-phosphorylated, which finally ends in intracellular cascade events. VEGF is secreted in response to stimulants such as hypoxia and shear stress (the homodynamic force originating from the friction of blood flow and artery walls) from the endothelial cells [
5
]. Some research on the VEGF gene expression in human skeletal muscle showed a simultaneous increase in the VEGF mRNA and VEGF protein of muscular fibers [
6
]. Myllyharju et al. explored VEGF gene expression and observed that five training sessions managed to decrease response of the expression of Transforming Growth Factor Beta (TGF-β), FGF, and VEGF to one acute training session [
7
]. VEGF expression depends on a wide range of factors, including hormones, growth factors, and oxygen density. When the oxygen is lacking, Hypoxia Inducible Factors (HIFα1 and HIFα2) bind to the VEGF-a gene promoter and increase VEGF-a expression. In ischemic conditions, HIF-1a, in downstream, increases many molecules such as VEGF and its receptor, which in turn upregulates VEGF and increases its neurotrophic effect on endothelial cells and neurons following the hypoxic condition. While doing physical exercise, the acute and chronic effects of training on VEGF have as a potent factor in angiogenesis. A body of research showed that endurance training helped increase the factors involved in angiogenesis in different organs. Training studies showed that increasing angiogenesis occurs at a 70%-80% threshold of maximum oxygen consumed (VO2MAX) in skeletal muscle. However, a high load of endurance training at a threshold of 45% of VO2MAX has no effect on angiogenesis in skeletal muscle [
8
]. Another angiogenesis index is the Fibroblast Growth Factor (FGF). It belongs to the family of growth factors and is involved in angiogenesis, treatment of injuries, and fetal development [
9
]. FGF-21 has been introduced as hepatokine/myokine/adipokine and is primarily expressed in the liver and muscles and plays a critical regulatory role in glucose and fat metabolism in humans and rodents [
10
]. FGF-21 stimulates glucose uptake in adipocytes by inducing GLUT-1 and inhibits glucagon secretion by pancreas alpha cells [
11
]. Moreover, increased FGF-21 turns the white adipose tissue to brown by increasing the protein level of Peroxisome Proliferator-Activated Coactivator 1 Alpha (PGC-1α) [
12
] and activating the AMPK/SIRT1/PGC-1α pathway, which indicates FGF-21 potential as a treatment of obesity [
13
]. Related studies showed that FGF-21 level increases after the training among overweight and obese patients [
14
]. However, Kruse et al. reported the ineffectiveness of endurance training in the circulation levels of FGF-21. Probably because the involved mechanisms are undetermined. In recent years, High-Intensity Interval Training (HIIT) has been known as an effective training intervention, which can benefit more than Medium-Intensity Interval Training (MIIT). As an instance, HIIT interventions have shown similar effects to Moderate-Intensity Continuous Training (MICT) on metabolic adaptations of the skeletal muscle, cardiovascular fitness, and body composition [
15
]. Moreover, HIIT causes a significantly higher increase than MIIT in the serum level of FGF-21. The existing body of research showed that FGF-21 is increased in response to acute physical training. Yet, no change or reduction has been reported in this hormone in response to the training [
16
,
17
].
Besides physical training, the existing research has shown that some herbs are effective in patients with cardiovascular diseases [
18
]. In Iranian traditional medicine, one effective herb for this purpose is fenugreek. Interestingly, this herb has a wide range of therapeutic effects, including the anti-arthrosclerosis and anti-inflammatory effects, as well as the effects on controlling blood fat, lipid, blood pressure, and glyceride [
19
]. Fenugreek enjoys a hot and dry nature, and its leaves are effectively used to relieve cold coughs, splenomegaly, hepatitis, backache, and cold bladder. Besides, the herb seeds have topical laxatives, anti-inflammatory, and sore joint relieving effects. Its brewed drink mixed with honey has been recommended to treat shortness of breath and internal swelling. The seeds are especially beneficial. Several recent studies have proven the effectiveness of fenugreek seeds on reducing cholesterol [
20
]. Most therapeutic effects of fenugreek seeds observed in related studies point to the antioxidant, anti-inflammatory, and prebiotic effect of its active components. Research has also shown that this herb has an anti-inflammatory and anti-oxidant effect on animal models with infarction [
21
]. Despite the widespread use of fenugreek seeds in traditional medicine, no related research was found to explore the effect of this herb in combination with interval training on angiogenesis indices. Thus, because of the contradictory findings from different studies exploring different intensities of training and the effect of consuming herbal supplementary medicines, the present research aimed to explore the effect of interval training combined with the consumption of fenugreek seeds on the gene expression of FGF-21 and VEGF in patients with coronary artery occlusion.
2. Materials and Methods
The present quasi-experimental research had a pre-test, post-test design. The target population comprised all men with CAD aged between 55 and 65 years. They visited Rouhani and Shahid Beheshti hospitals in Babol City, Iran (2018-2019) and had no experience of regular physical activity and no previous consumption of fenugreek seeds (for at least the past six months). They were invited to participate in the research through a public announcement. Among all patients willing to participate in the research, 32 patients were selected. After being physically examined by a physician and signed an informed consent form, they entered the study. They were randomly divided into four groups: the control, the fenugreek consumption only, the training only, and the training + fenugreek consumption.
The training protocol
The training protocol involved 8 weeks of interval training in running, 3 sessions a week with an intensity of 55%-65% of the trainees' Heart Rate Reserve (HRR) and a gradual increase in intensity. The training protocol involved indoor running. Every session began with 10 minutes of general warm-up, including light stretching movements to dynamically involve all body limbs and the sessions ended with 10 minutes of cooling down. The main training aimed to reach the target intensity and was performed wearing a Polar sport watch to display the heart rate. The training protocol is presented in
Table 1
[
22
].
Fenugreek seed extract consumption protocol
Fenugreek seeds were supplied from the countryside of Kermanshah City, Iran, and were then powdered. One thousand grams of the powder was inserted in a 2-L Erlenmeyer flask, and then 2 L of distilled water and ethanol (96%) were added. The content was soaked for 48 hours and then was filtered through filter papers. Next, a rotavapor was used to extract the alcohol. The remaining content was concentrated and dried [
23
]. The subjects in the fenugreek only and training + fenugreek groups consumed 10 mg/kg of the fenugreek seed extract for 8 weeks (every day at 6:00 PM).
Blood sampling and buffy coat preparation
Blood samples (5 mL from the subjects' brachial vein) were taken 24 hours before the intervention and 48 hours after the last day of the intervention (training, fenugreek only, training + fenugreek), after 24-hour fasting in Pasteur Laboratory in Babol. To prepare the buffy coat, the blood was centrifuged at 3000 rpm for 7 min. The resultant white substance between the red globule layer in the bottom and plasma on the top was the buffy coat. To segregate the buffy coat, a 1000-sampler was used, and this step was done gradually. The aim was to have DNA extracted from the buffy coat equal to 5-10 times as much as the total blood's DNA.
To extract RNA, about 100 mL of the buffy coat was inserted in a micro-tube without any RNAase, and then 1 mL of TRIzol (that of the RNA extraction content by Sigma Corporation) was added. The micro-tube was centrifuged for 15 minutes at 2°C-8°C and a speed of 12000 rpm. Finally, the sediment was solved into Diethyl Pyrocarbonate (DEPC) treated water and stored at -70°C. Except for the first step, which was done under an ordinary hood due to the toxicity of TRIzol, all the other steps were conducted under a luminary hood. The extracted RNA was quantitatively measured via spectrophotometry and agarose gel electrophoresis. cDNA was made using a Fermentas kit (made in Germany). To develop the primers, all the existing limits were taken into account, and the Gen Runner (5.5.51) and Oligo 7.0 were used. After that, their specificity was checked in Basic Local Alignment Search Tool (BLAST) on the National Center for Biotechnology Information (NCBI) website.
Table 2
presents the primers developed for this aim.

After a reverse transcription reaction to propagate the target segment and quantitative measurement of gene expressions, the real-time PCR was performed on the cDNA using SYBR Green dye. To determine the efficiency of primers, we used the LinRegPCR in which one group is set for the target samples with a pair of primers, and then for each group (each pair of primers), the efficiency was estimated. After examining all real-time PCRs, the resultant efficiencies were averaged to estimate the final efficiency. After the real-time PCR, the raw data were collected and analyzed.
Data analysis procedure
Descriptive statistics were used to analyze the data. Within-group and between-group changes were analyzed with pre-test, post-test design through 2-way repeated measures ANOVA and Tukey's test. The significance level for all cases was set at α≤0.05. All statistical procedures were done using GraphPad prism 8 and Excel.
3. Results
Figure 1
shows the electrophorese of the extracted RNA on an agarose gel. As it can be observed, the presence of S28 and S18 RNA bands of ribosome show the healthy and ideal quality of the extracted RNA.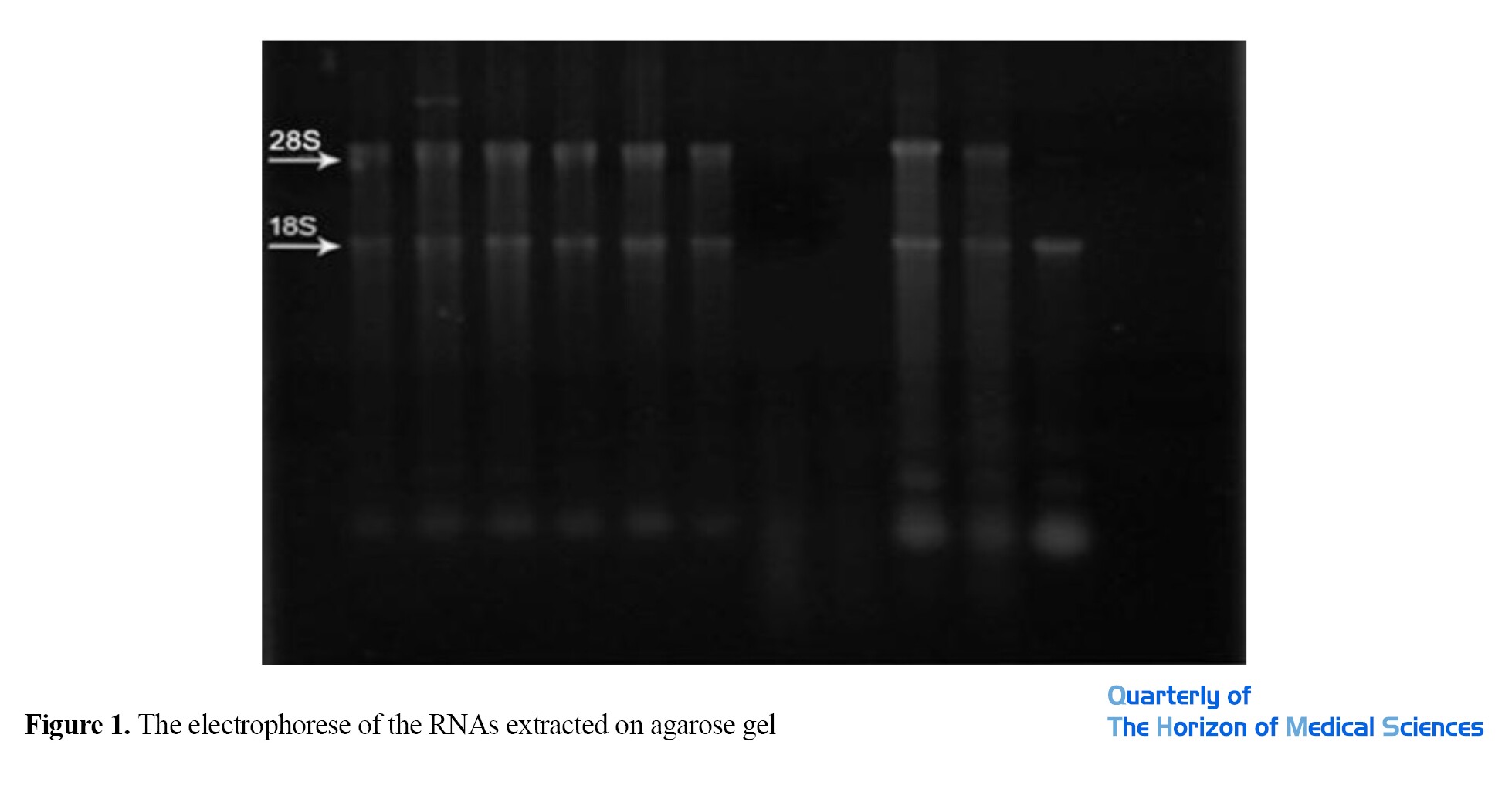 The results summarized in
Table 3
indicate significant differences between the pre-test and post-test in terms of changes in the gene expression of VEGF and FGF-21 (P<0.0001). Within-group changes showed that the mean ratio of FGF-21 gene expression in the training-only group, fenugreek-only group, and the training + fenugreek group was significantly increased from the pre-test to the post-test as compared to the control group (P<0.0001).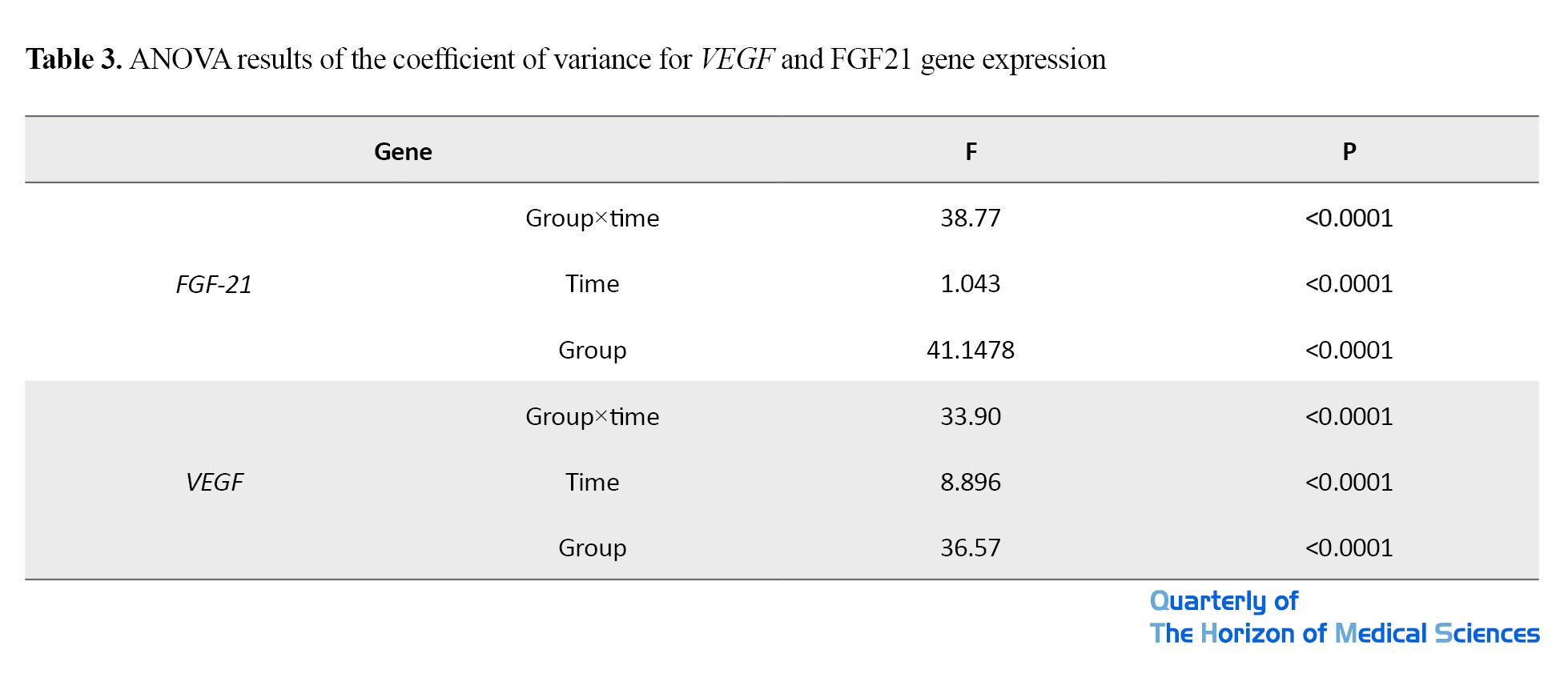 Tukey's test results showed a statistically significant increase in the mean expression of FGF-21 in the training only, fenugreek only, and training + fenugreek groups compared to the control group (P<0.0001). The training + fenugreek group showed a higher statistically significant increase than the training only and the fenugreek only groups (P<0.0001). However, the training-only group showed no statistically significant difference with the fenugreek-only group (P=0.4987) (
Figure 2
).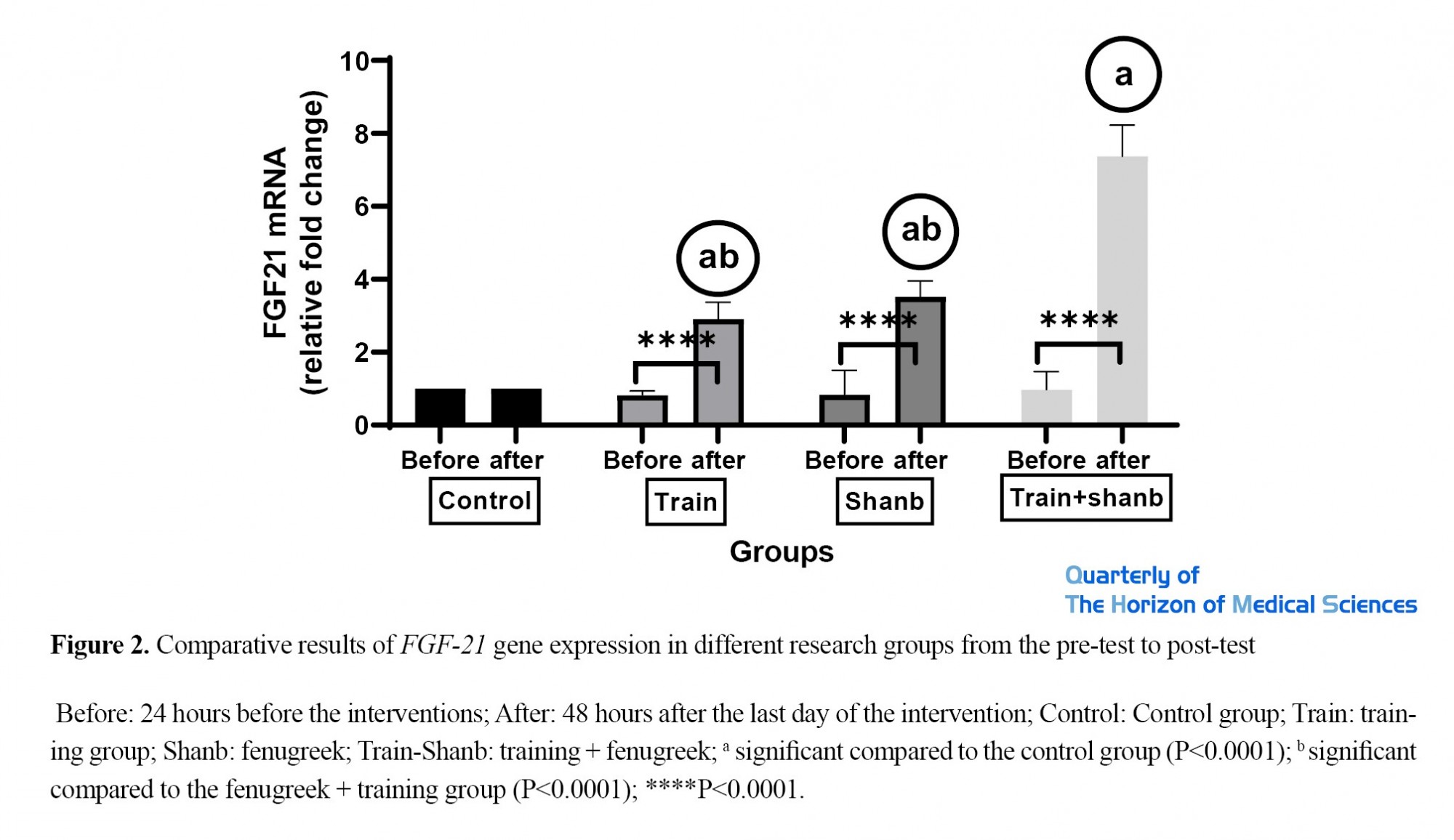 Moreover, within-group comparison results showed that the mean coefficient of variation of the VEGF gene expression was significantly increased more than in training-only group (P<0.0001), fenugreek-only group (P=0.0004), and fenugreek + training group (P<0.0001) compared to the control group. The fenugreek + training group showed a statistically significant increase compared to the training-only group (P=0.0181) and the fenugreek-only group (P<0.0495). However, the training-only group showed no statistically significant difference with the fenugreek-only group (P=0.9999) (
Figure 3
).
4. Discussion
The present research explored the effect of interval training and consumption of fenugreek seeds on VEGF and FGF-21 gene expressions in patients with coronary artery diseases. The results revealed that the ratio of VEGF and FGF-21 gene expression was increased in patients with CAD after an interval training combined with the consumption of fenugreek seeds. No statistically significant difference was observed between the effect of the interval training and the consumption of the fenugreek seeds. Yet, the combined group (training + fenugreek) showed a significantly increased effect. FGF family members possess an intracellular activity, paracrine, and endocrine with different effects on metabolism and the potential activities of the cardiovascular system. There is evidence that the endogenous gland family members are correlated with metabolic markers and prognosis of CAD. FGF-21 is a new member of the FGF family and plays a potentially crucial role in cardiovascular diseases and especially atherosclerosis. It has been shown that FGF-21 level is strongly correlated with cardiovascular risk and conditions such as blood cholesterol, hypertension, diabetes, and obesity. Yet, different metabolic effects of FGF-21 have already been shown in experimental animal models. These effects show that FGF-21 may have a protective effect on the cardiovascular system and lower the risk factors. There is evidence for the protective effect of FGF-21 on endothelial damage and atherosclerosis through plaque formation and the ischemic damage of cardiac myocytes associated with oxidative stress [
9
].
Moreover, in today's world characterized by the ever-growing use of technology and mechanical life, there is less physical activity. The diseases induced by low physical activity are on the rise, and the most prevalent ones are cardiovascular diseases [
24
]. FGF-21 level is increased in physical training [
15
]. Much research revealed that the gene expression of FGF-21 increases after physical training, primarily induced by this hormone's production in hepatocytes. This production is upregulated due to the increased ratio of glucagon to insulin (an increase in glucagon and a decrease in insulin) [
16
]. High-Intensity Interval Training (HIIT) can significantly increase the serum FGF-21, while Medium-Intensity Interval Training (MIIT) has no significant effect on this hormone [
11
,
15
]. FGF-21 expression and secretion are upregulated by an over-expression of Akt1. Regarding the activation of Akt1 after physical exercises, Chavanelle et al. showed recently that HIIT leads to higher activation of Akt1 than the MIIT. Thus, an increase in the expression of FGF21 as a result of interval training is due to the activation of Akt1 [
25
]. The present findings are consistent with a body of research [
13
,
18
,
25
] and inconsistent with some others [
26
]. The inconsistency of findings is due to the genetic measurement of factors such as FGF-21 and VEGF and the measured tissue. Lloyd et al. investigated the angiogenesis of skeletal muscles in response to physical training to explore the angiogenesis process. The results revealed that in the training group, VEGF increased 3-6 times within 12 days; yet, no change was observed in the control group [
27
]. There is evidence that in ischemic and hypoxic conditions, the Hypoxic Induction Factor (HIF1) was increased. HIF-1 activation initiates functional adaptations (e.g. the gene expression of VEGF), which can reduce the adverse effects of exposure to hypoxia. After secretion, HIF-1 can detect Hypoxic Reactive Elements (HRE) located on the target genes in the nucleus. The reaction HIF-1 and HRE initiates the transcription of the target genes (those related to VEGF) [
28
].
Overall, the hypoxia occurring as a result of the interval training activates pro-angiogenesis pathways. As a result of adaptation to training, the upregulation of VEGF and FGF21 happen as strong angiogenesis stimulants. A body of research has shown that in cardiac patients, aerobics has been more effective than other exercises on endothelial functioning. This training managed to increase the vasodilation induced by the bloodstream by 1%-5% [
29
]. It has been shown that interval training increases shear stress due to topical intermittent recurrences [
30
]. Moreover, according to recent investigations, fenugreek is known for its anti-atherosclerosis, anti-inflammatory, and antioxidant effects [
31
]. Research findings showed that consuming fenugreek seeds besides swimming exercises had a strong therapeutic effect on reducing cholesterol and artery occlusion besides improving diabetes parameters [
2
]. It has also been found that obese people with high lipid tissue need to have a wider vascular bed to allow blood circulation. Thus, this adaptation to training and fenugreek consumption can, in the long run, improve atherosclerosis. Yet, further in-depth research is needed on this issue.
Although there is no direct investigation of the effect of fenugreek on angiogenesis, it has been shown that some of its ingredients, including a group of phenols with low molecular weight, have a particular effect on the treatment of cardiac diseases. Moreover, a body of research has attested to the anti-oxidant effect of fenugreek due to the capability of flavonoids in inhibiting lipid peroxidation and protection against anti-oxidative stress. Flavonoids can regulate some phases of angiogenesis, such as cell migration and microcapillary tube formation [
32
]. Fenugreek improves the maximal and sub-maximal aerobic function [
33
]. Besides, the above-mentioned studies showed that fenugreek extract significantly reduces the atherogenic index. Fenugreek possesses bitter saponins such as protodioscin. A body of research has proven the effectiveness of diosgenin (a form of protodioscin and dioscin) in lipid and glucose metabolism. Diosgenin increases the Peroxisome Proliferator-Activated Receptor Y (PPARY) level in the white tissue and induces cell differentiation, and reduces the size of fat cells. These events would increase adiponectin secretion, which inhibits inflammation in fat cells. Moreover, diosgenin reduces the triglyceride level and mRNA expression in lipogenetic genes [
20
].
5. Conclusion
An increase in the CV of VEGF and FGF-21 gene expression in the research groups probably lead to the pre-angiogenetic functioning of endothelial cells. HIIT might cause a faster adaptation to aerobic interval training in the body. The results revealed that a combination of the interval training and consumption of fenugreek seeds managed to increase the coefficient of variation of the FGF-21 and VEGF gene expression and can probably positively affect the pro-angiogenesis pathway in patients with coronary artery occlusion.
One limitation of the present research was the small sample size and the measurement of few angiogenetic indices. Further research is required to know the potential mechanisms involved in the effect of the training and consumption of fenugreek seeds on larger samples using a wider range of indices.
Ethical Considerations
Compliance with ethical guidelines
This research project was approved by the Ethics Committee of Islamic Azad University of Babol (Code: #IR.IAU.BABOL.REC.1398.091).
Funding
This research did not receive any grant from funding agencies in the public, commercial, or non-profit sectors.
Authors' contributions
All authors equally contributed to preparing this article.
Conflicts of interest
The authors declared no conflict of interest.
References